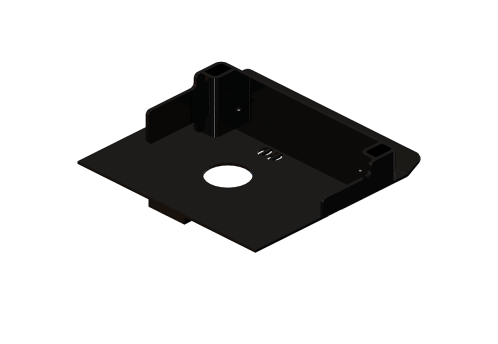 #331760 Quick Connect Capture Plate for Rota-Flex/Road Armor
A Capture Plate is a required component of the SuperGlide fifth wheel towing system. 
This plate is attached to your trailer's skid plate.  When you're hooked up into your SuperGlide hitch and ready to tow, it isolates the rotation of your trailer's king pin in the hitch.  Movement and rotation is then transferred to the automatic cam action of your SuperGlide hitch, moving it away from the cab along its rails to prevent the trailer from contacting the cab of your truck!  
We have created this specific Quick Connect Capture Plate for your trailer's king pin box for quick install and removal for your convenience.
The #331760 QCCP is used with most models of Rota-Flex/Road Armor pin boxes that are 13-5/8" wide.
Learn how to properly measure your trailer's king pin box by clicking here.
Description
For more information or assistance, please call PullRite Customer Service at (800) 443-2307 for more details.
Overall Dimensions (inches)
20"W x 17"H x 4"L; box
King Pin Box Manufacturer/Model
Measurement A
13.63inches
Measurement C
11.44inches
Finish
Black, powder coat
Shipping Specs
Box, Corrugated