ISR Series Rails (and Mounting Brackets) How They Work!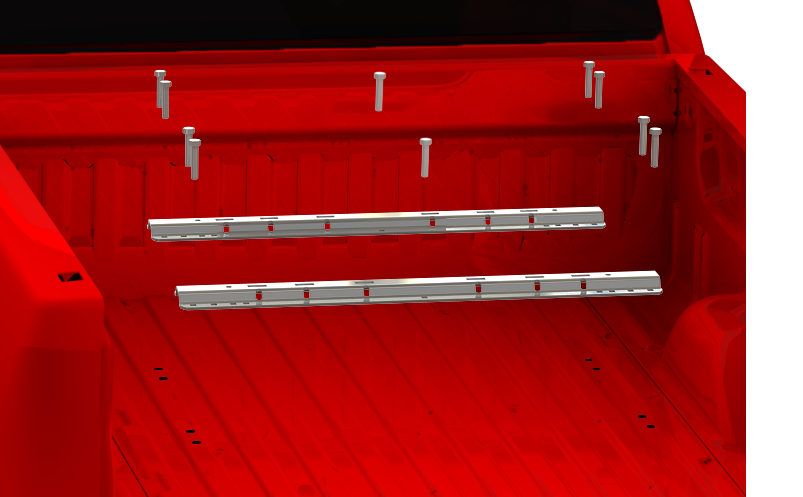 Since ISR Rails are the most common type of rail mounted system on the road today, its likely you have a truck with them already installed.  You now have the option to install a PullRite hitch onto the existing rails, but after reading about some of the features of both PullRite rail and mounting bracket, you may decide to upgrade both rails and hitch completely!
Our ISR Rails can be purchased separately, but most often come sold as a Mounting Kit, which includes rails, mounting brackets and hardware.  Let's start under the bed with the Mounting Brackets and work our way up to the Rails.
All our Custom Mounting Brackets are designed specifically to your truck's make and model, and in most cases, use existing holes on the truck's frame, requiring no drilling. 
If you like working on your own vehicle and want to upgrade your system with PullRite brackets, then ours are a DIYer's dream to install.  But a common problem with installing them yourself is, you don't always have an extra pair of hands around when you need them. 
We use hex head bolts in our bracket hardware because they can be easily torqued from the top side of the bed. Most manufacturers use carriage bolts to attach the base rails through the bed to the Mounting Bracket. However, carriage bolts have a rounded head and cannot be torqued from the top side, which means that most bed fasteners are not likely to be torqued properly due to the difficulty of operating a torque wrench in such a limited space under the bed.  If you've ever had to swing a torque wrench under and around brake lines, the gas tank, etc., you know how difficult it is to get a wrench on hardware  That's where Nut Tab Technology solves that problem.
As you can see from the illustrations below, Nut Tabs can be gently bent downward enough to insert the Serrated Flange Nuts, and then bent back into place.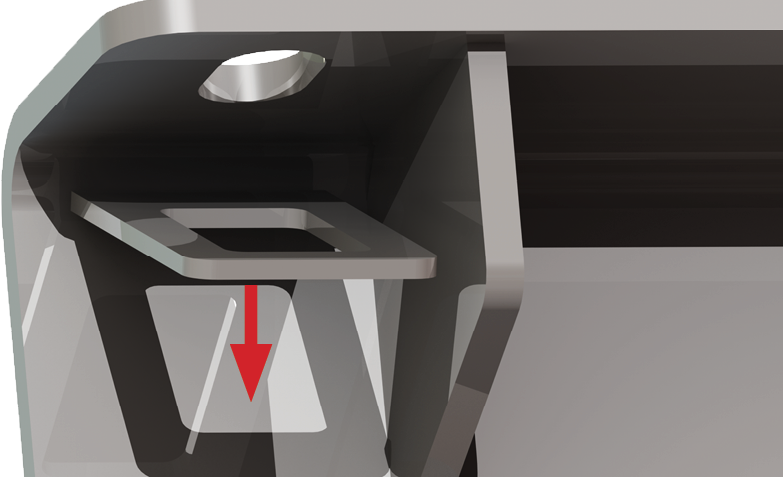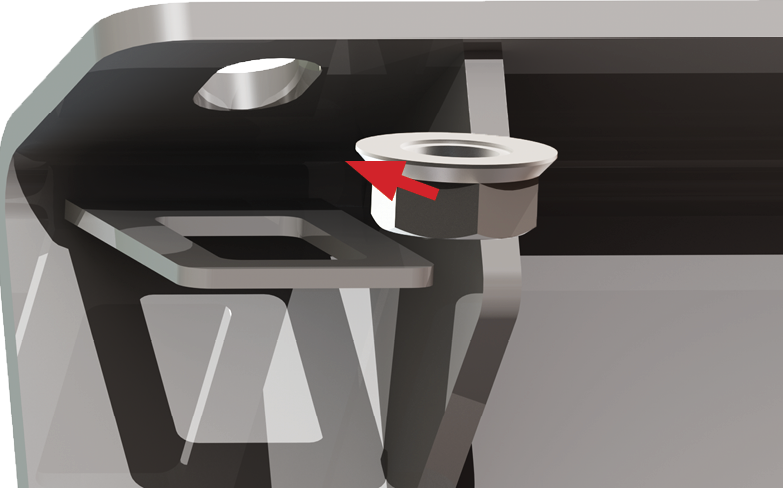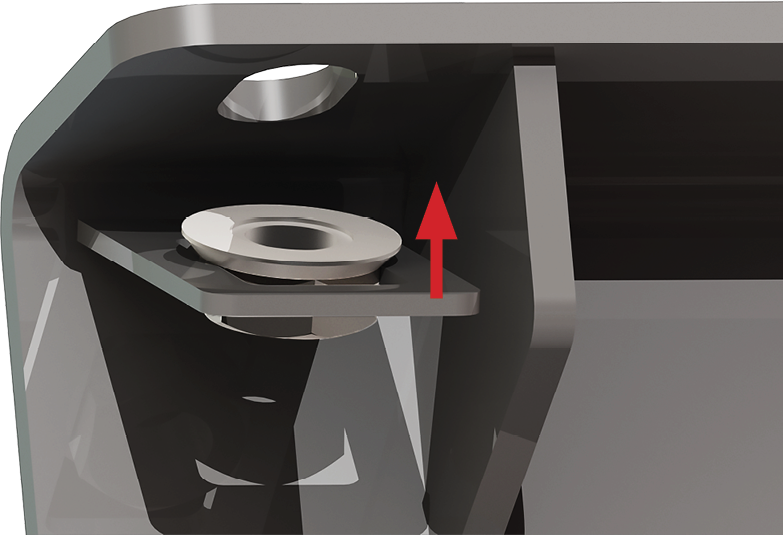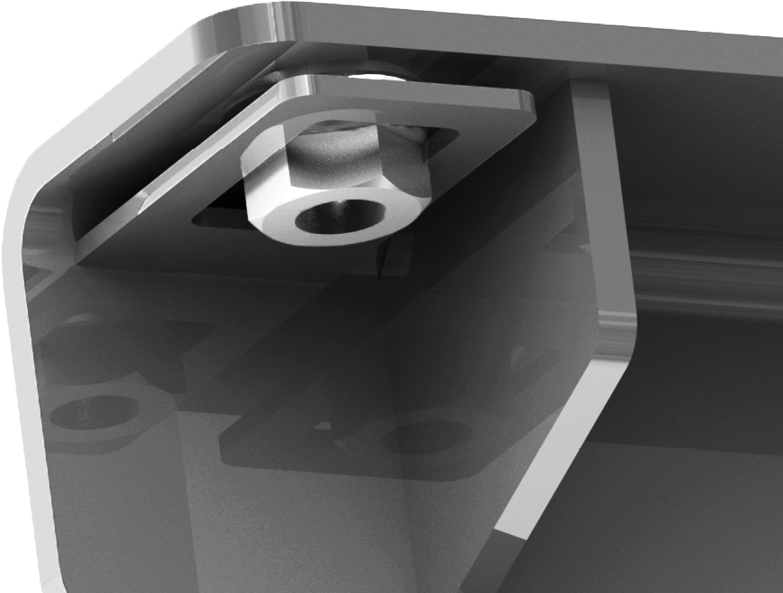 Once in place, the rest of the installation can be performed from the top side of the truck bed.  With the Flange Nuts now being held in place and prevented from rotating, you can take a pencil and easily adjust the nut along the slotted hole in the top of the Mounting Bracket to perfectly align the nut, through the hole in the bed and the baserail.
It not only takes less time and makes installation easier, but you're more likely to get a proper installation because our hardware can be torqued properly from the top side.  Even if you choose to go to a dealership to have the installation done, time is money, and the faster the installer can install our Mounting Brackets, the more money you will save. 
STANDARD ISR RAILS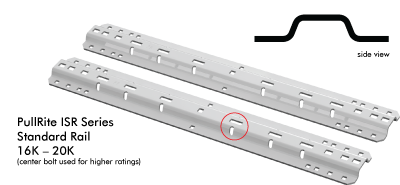 That brings us to our rails.  Though "standard" dimensionally to the industry, ours are not typical and come with benefits other brands don't have.
As you can see from the illustration's side view, industry standard rails are "UFO" shaped with sloping sides.  We designed them according to standardized patterns of holes that accommodate hitches with tabbed/spade feet that are pinned into place.  The problem with this standard design is, it has less tensile strength because of the holes, especially where the hitch pin and spade foot holes are closest on the bed of the rail (circled in red).
Note that PullRite Standard ISR Rails come rated between 16K and 20K.  To achieve the higher weight ratings we utilize the center bolt locations on each rail.  See illustration above.
With those issues in mind, we set out to design "above standard" rails.  We use the strongest, highest grade US steel you can come by.  No garden variety steel here.  We provide you with a superior quality because we too are RVer's and are just as concerned with safety as you are.  All of our products, including our base rails must be able to pass SAE testing, and in the 10 years since we have manufactured our "better than theirs" industry standard rails, we have never had a failure...so we must be doing it right!
HEAVY DUTY RAILS
Why make Heavy Duty rails?  Simply put, most other brands of hitches are rated for more than the base rails can handle, and with most not adhering to proper SAE testing guidelines, that results in product failure.
The reinforced "hat" shaped design of our Heavy Duty Rails is much stronger than the sloping sides of the standard rail.  More importantly, it gives you a little more space between the hitch pin hole and the spade hole on the bend of the rail where it tends to be the weakest.
No other manufacturer has rails that match our 20K rated standard rails, let alone these 24K rails, but they still rate their hitches heavier and pair them with lighter rated base rails. 
It is very important that most RVer's understand that the overall weight rating of a towing systems is equal to its lowest rated component.  So if you are pulling a 24K fifth wheel trailer, but only have 18K rated base rails, you can only safely tow a 18K trailer.  Unfortunately, dealers and manufacturers overlook this very critical point.
Additionally, our parts are precision engineered for the tightest of tolerances. We cut the rails to fit the tabbed/spade feet of our hitches better in the fore-to-aft space than our competitors; that significantly reduces unwanted space that would normally lead to chucking and noise while towing.
Because industry standard type rails are bolt-down applications, it is not recommended to remove and reinstall this type of system to obtain a clean bed, which is why we created ISR SuperRails.  In case you missed it, see more about them here, along with other types of mounting systems.