PullRite's Exclusive Bed Saver Rails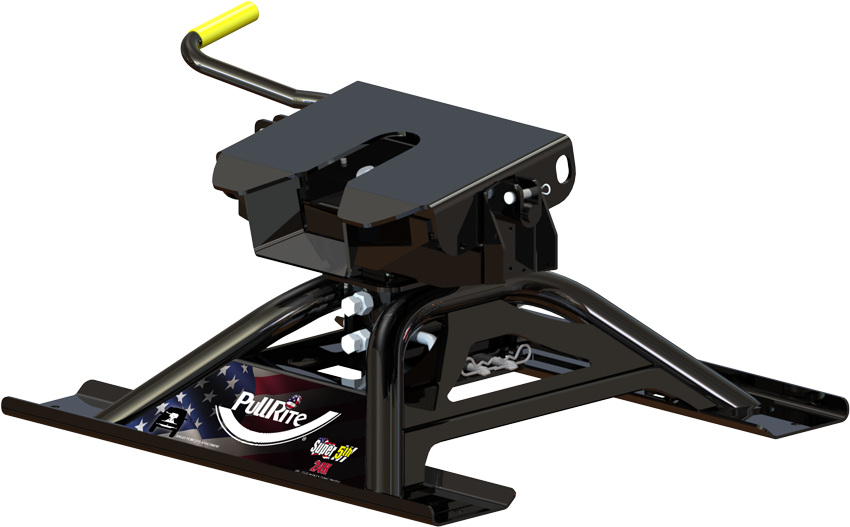 Single Point Attachment (underbed gooseneck) towing systems are the hot trend in towing, and when we see trends that "stick," we examine them responsibly and make every effort to improve upon and educate the RV'er on whether that trend is right for them and/or safe.  After examining every Single Point Attachment hitch on the market, we feel there was more than enough room for improvement! 
Currently, our #3900 Super 5th and #2600 SuperLite Single Point Attachment hitches use these rails.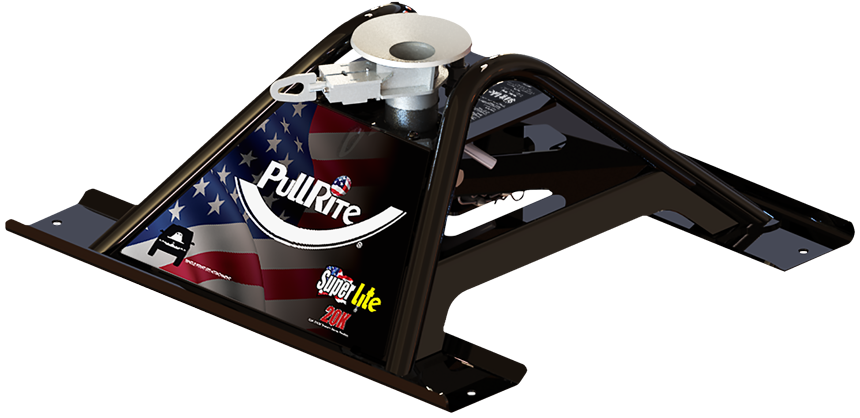 What they don't tell you about a single point attachment system, is that it can significantly weaken and eventually tear through your truck bed, which is essentially just a big piece of thin sheet of steel or aluminum.  Let us show you why our hitches that use our exclusive Bed Saver Rails will help eliminate some of those issues.
ELIMINATES GALVANIC CORROSION BETWEEN THE HITCH & ALUMINUM BEDS
Our Bed Saver Rails are sprayed with a coating similar to a rubberized bed liner.  For Ford aluminum bed applications especially, this material acts as additional insulation between the aluminum truck bed and steel base rails, eliminating the possibility of galvanic corrosion. 
Galvanic corrosion occurs naturally when steel and aluminum are placed in contact for an extended period of time and rust begins to corrode the truck bed.  Our special lining helps solve that problem and more...
REDUCES OR ELIMINATES BED PAINT SCRATCHES
Since all Single Point Hitches rotate on the ball front-to-back during stops and starts with your vehicle, they mark up the bed and will eventually wear your paint off.  PullRite's Bed Saver Rails reduce or eliminate this problem because they are independent of this motion.
Though independent of this movement, some friction still remains between the rails and the hitch base that would allow a small amount of movement over the bed.  If the bed rails could better grip the bed, then even more of the movement would occur on the top of the rails, and less on the bottom.
That's where our spray liner helps here too.  Because of its textured and "rubbery" quality, it grips the bed, thereby reducing movement between the two.  Of course, just by introducing a less abrasive material between the bed and the rails, less marking should occur.
REDUCES OR ELIMINATES LATERAL ROTATION OF THE HITCH ON THE BALL
Single point hitches can also rotate around the ball laterally, in other words, the hitch alignment with the bed becomes off.  If enough rotation occurs, and then a sudden stop event happens, the gooseneck ball to king pin ball "offset" could cause the entire hitch to rotate around the gooseneck ball.  If that happens during a turn in a short bed truck, it would increase the likelihood of truck and trailer contact. 
If there is more friction between the Bed Saver Rails and the truck bed, then rotation is less likely.  This is an issue for most competitor's single point hitches.
DESIGNED TO ELIMINATE EXCESSIVE WEAR AND DAMAGE TO THE TRUCK BED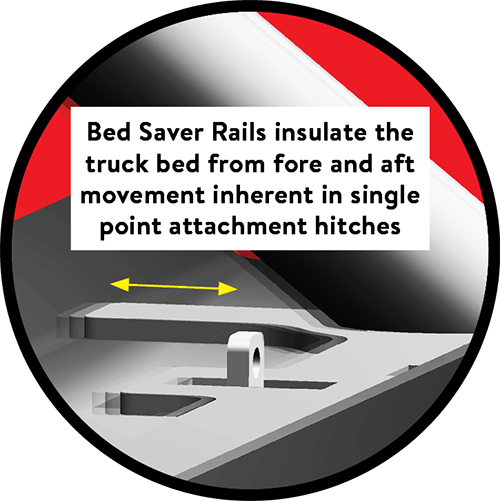 Bed Saver Rails are detachable bed rails that minimize surface wear and bed rail crushing.  All single point hitches have only one anchor point to the truck frame, and that's a gooseneck ball.  Since the ball is round, the hitch is bound to rock back-and-forth as the trailer alternately pushes and pulls against the acceleration and deceleration of the truck. 
This rocking action results in focused wear points where the front and rear edges of the hitch "dig" into the truck bed much like an old fashioned can opener.  This action against the truck bed results in paint wear and bed channel crushing.
Our Bed Saver Rails distribute the torquing stresses from towing on the bed channels over a wider area than any other single point hitch because they remain flat against, and perpendicular to, the bed channels.   They are tabbed in place while towing, but are purposely left unattached to the hitch to insulate the truck bed from the back and forth action and the "can opener" effect.
Other single point hitches on the market have base rails that are welded to their hitch base, so during stops and starts, one end of the hitch is going to go up and the other end is going to dig down into the truck bed.  Bed Saver Rails eliminate those stresses and wear points, so instead of having a pointed can opener in your truck bed, you have a spatula that won't pierce the can.
Check out this short video to see our Bed Saver Rails in action!