OE Series Puck Mounting System — "How it Works"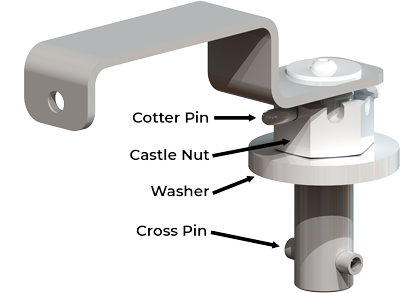 The main feature of an OE Puck mounting system are the mounting posts that install into the truck bed hard points (pucks).
Other brands have their mounting posts in fixed positions on the hitch base. That makes it challenging when you go to install it in the puck mounts for several reasons.  To install the hitch, it must be perfectly square to make all four posts drop in at once and seat properly.  If it doesn't, you may make repeated attempts at aligning the hitch over holes you can't clearly see.  And removal of the hitch from all four points simultaneously, requires lifting straight up and level from the center of the hitch.  These two maneuvers can create a lot of undo stress and back strain.
​We solved all those issues in our PullRite OE Puck Series hitches with our completely removable, custom designed OE Mounting Posts.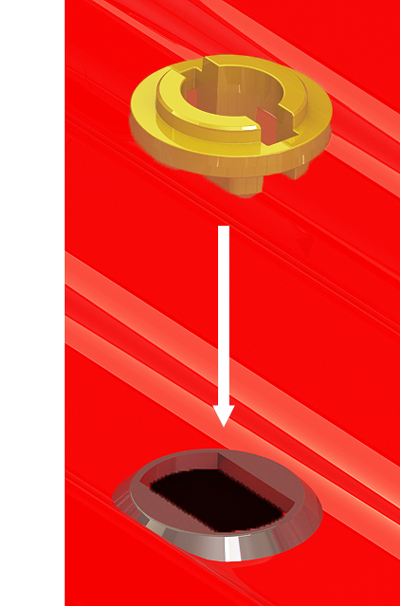 First, we provide 4 brass washers (right) that convert the standard, rectangular puck point into a nice round hole that are engineered to our Mounting Posts with tight tolerances for the best fit possible…that greatly reduces the amount of chucking during towing. 
By providing you with brass/copper alloy washers, we eliminate corrosion of metals, whereas other manufacturers use steel.  Steel contacting steel, especially when exposed to the elements is going to rust and eventually bind the hitch in the puck holes if left installed too long.
And our brass washers are installed individually by simply dropping them in the puck hole...just like our handles.  With these pieces being modular, you're not going to get them binding in place.  Other similar OE puck hitches have their washers not only made out of steel, but also fixed/welded onto the bottom side of their base, not allowing for manufacturer's variances.  Binding is a frequent issue according to the feedback we get, but with our adjustable, modular design, we have yet to receive a complaint.
Because our Mounting Posts aren't fixed and work independently of one another, you can easily maneuver the hitch over the puck mounts.  Simply install one handle at a time at opposite corners to square it up.  The struggle of lifting it up and down over the holes is eliminated.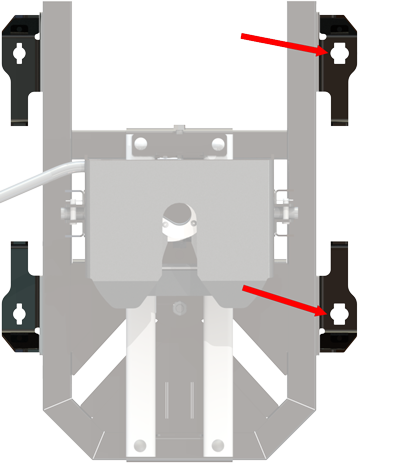 With trucks being mass produced and not built consistently every single time, you may find your truck frame has some width variances.  To accommodate these inconsistencies, we have designed all our OE Pucks Series hitches with additional space on the passenger side base feet (left), solving fitment issues some other brands experience.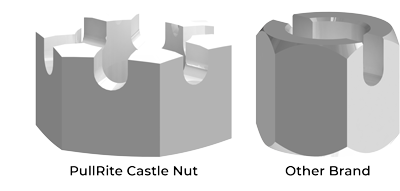 Another feature that sets our OE Mounting Posts apart from other brands is the use of premium hardware like the castle nut (right).  This specialized nut allows for finer adjustments of the handle into the locked position. 
When you turn the handle into the locked position, you want a tight fit to help eliminate chucking due to additional space between the Mounting Post Cross Pin and the puck mount.  For a snug fit, you simply rotate the castle nut to draw the Cross Pin up and eliminate any "play" in the mounting point.
By using a castle nut with 6 crenel locations, with every 60º turn, you are able to choose which location helps you achieve a tighter fit.  Some other brands have only one through-hole, and in most cases will either be over or under tightened because you can only choose a pin location every 180º.  Check out this video to see a quick demonstration of how castle nut adjustments are made.
Now most other brands of mounting posts are made from a lesser quality steel and is only 3/4" or less in diameter.  We up'd our game there too by manufacturing 1" Mounting Posts from a higher grade of US steel.  
Each Mounting Post assembly features a "floating" washer (above) that lends additional support as they are put through the rigors of towing.  Worth noting, is the extra support we lend to the Ford models where their pucks are located much closer than that of GM and Ram models. 
By supplying a thicker washer where needed and Mounting Posts that are built better, we ensure the main connection between your truck and hitch/trailer are able to pass rigorous testing.  PullRite Mounting Posts, like all our hitches and components, have passed and exceeded standard SAE J2638 testing.  Click here and see why SAE Testing matters.
With each Mounting Post Assembly being completely removable, you lighten the lifting weight of the hitch upward of 10 lbs. when they're removed. Subtract another 40 lbs. by pulling a couple pins and clips to release the hitch head.  That's 50 lbs. you don't have to lift straight up out of the puck mounts like all other brands.
OTHER FEATURED ITEMS FOR OE PUCK MOUNTING SYSTEMS BY PULLRITE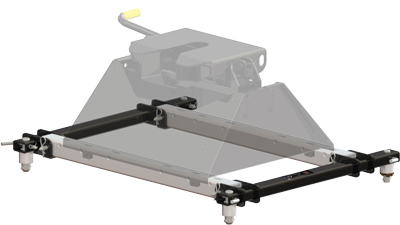 OE Series Rail Adapters
Our OE Series Rail Adapters are designed to give you more choices.  If you already own a PullRite ISR Series hitch or any other brand industry standard hitch with spade/tabbed base feet.  These adapters are designed to function just like the OE Puck Series hitches described above and convert your rail mounted hitch to a puck mounted one.  They are modular in design and break down into 4 individual pieces, use 4 independent mounting posts, and still require NO TOOLS!  Click here to learn more.
OE Series Gooseneck Cam Action Ball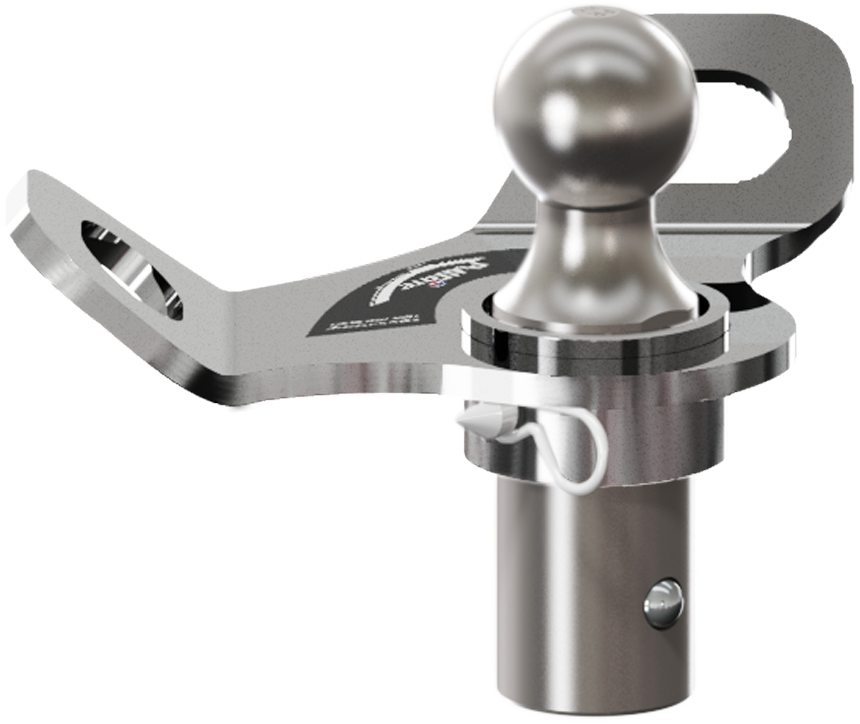 If you have an OE Puck system in the bed of your truck with a center ball mount and want to enjoy switching from fifth wheel towing to gooseneck towing, then choose our patented, cam-action OE Series Gooseneck Ball.  They quickly install and lock into the center ball mount with a twist...no need for tools.  PullRite OE Gooseneck Balls also come with a feature most other brands don't have...they're lockable for theft protection.  Optional Chain Plate available.  Check out your OE Series Gooseneck Ball options here or let us show you just how they work!
Now that you understand all about this mounting option, take a look at our entire line of OE Series Products!