ISR Series SuperLite — How It Works!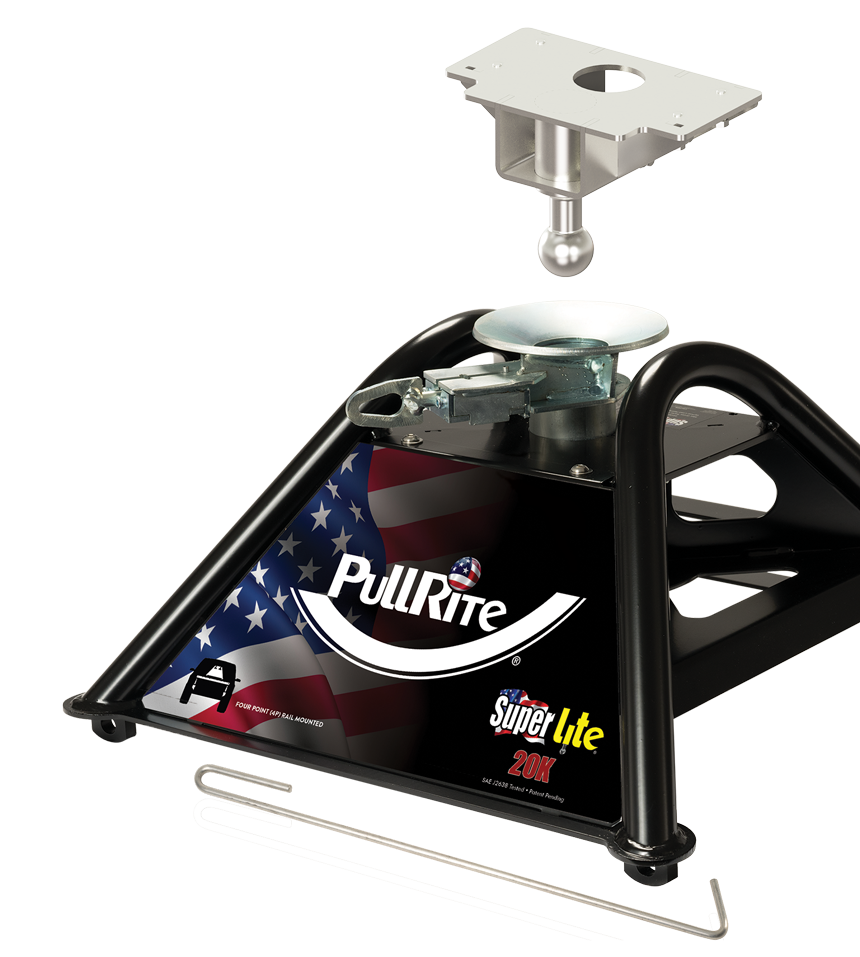 It was time to rethink towing.  
We examined the main issues facing current RV'ers today that needed to be addressed.  The "big three" that seemed to cause RVer's the most challenges were hooking up, strength without sacrificing quality, and the lifting weight of the hitch.
SuperLite is the answer to these challenges.  Here's how we did it and why...
We took the hitch plate, rocker arm and crossmember, and combined all three functions into our SuperLite King Pin Adapter.  The adapter clamps to your fifth wheel trailer's king pin and mounts an upside-down ball in place of all three, turning your fifth wheel trailer into a gooseneck-type trailer with a ball mount.
Then we took a gooseneck coupler, turned it upside-down and mounted it to a hitch base.
To make hooking up a breeze, we added a funnel to the gooseneck coupler so all you have to do is aim the ball over any part of the funnel to guide the ball into the coupler tube. Because the ball and the coupler funnel are completely visible from the driver's seat, SuperLite is absolutely the easiest fifth wheel hitch to couple in the industry.
Designed to be lightweight, but still able to tow a 20K trailer with ease!  At 52 lbs. lifting weight, you would think we sacrificed strength and quality, but the SuperLite is built from high grade American steel, just like every other hitch we manufacture.
Let's take a brief look at all #2400 SuperLite's features...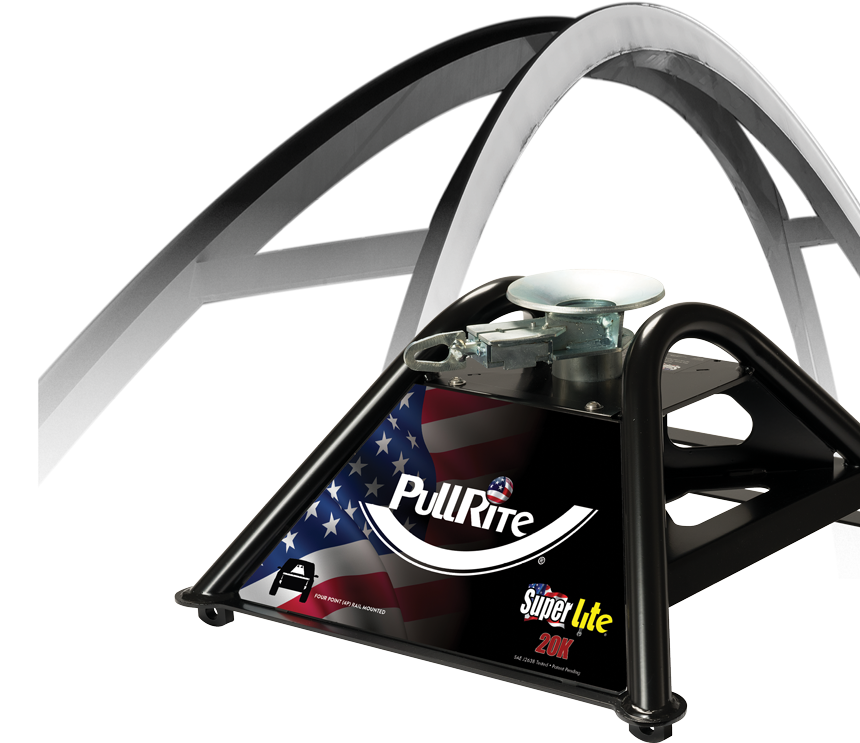 HIGH GRADE STEEL VS. ALUMINUM
We've all seen the commercials.  A tool box is dropped into an aluminum truck bed, and it's easily torn.  It's no different for a fifth wheel hitch.  Aluminum just doesn't have the same strength and durability as a steel hitch.  Yes, they are lighter, but is the single connection between truck and trailer really where you want to sacrifice quality?
Our team of engineers have used just the right amount of steel and support where it is needed.  Both SuperLite models (#2400, #2600 and #3900) are based off a proven design used for centuries, the tied arch bridge.  Known for their superior strength and lightweight design, the inward slanting arched ribs are optimized to take the stresses of large loads and distribute it evenly to its base.
PullRite's engineers incorporate this proven design into SuperLite to provide our customers with a truly lightweight, but strong connection between their truck and trailer.
ADAPTER CONVERTS KING PIN TO A BALL
We've taken the hitch plate, rocker arm and crossmember, and combined all three functions into our SuperLite King Pin Adapter that mounts an upside-down ball in place of all three.
The SuperLite King Pin Adapter attaches to your trailer's king pin similar to the way a fifth wheel hitch does, converting it to a simple hitch ball system.  Four widely spaced set screws push against the bottom of the pin box's skid plate, making a solid connection that won't rotate while towing.  No drilling and it only takes a few minutes to install/uninstall.
Like the hitch itself, the King Pin Adapter is made from high grade American steel and is machined to exacting tolerances so there is just the right amount of space between the ball and the Funneled Ball Receiver.
Perfectly suited for easy and quick removal if your trailer needs serviced or towed by a standard fifth wheel hitch.
Because the ball and the coupler funnel are completely visible from the driver's seat, SuperLite is absolutely the easiest fifth wheel hitch to couple in the industry.  Let's watch a short video to see how it works...
EASIEST HOOKUP ON THE MARKET!
As you can see in the video, hooking up is a no-brainer with SuperLIte!  The Funneled Ball Receiver and King Pin Adapter are completely visible from the driver's seat for most truck/trailer combinations, unlike gooseneck hitch balls or gooseneck pin boxes that lie on the floor of the bed.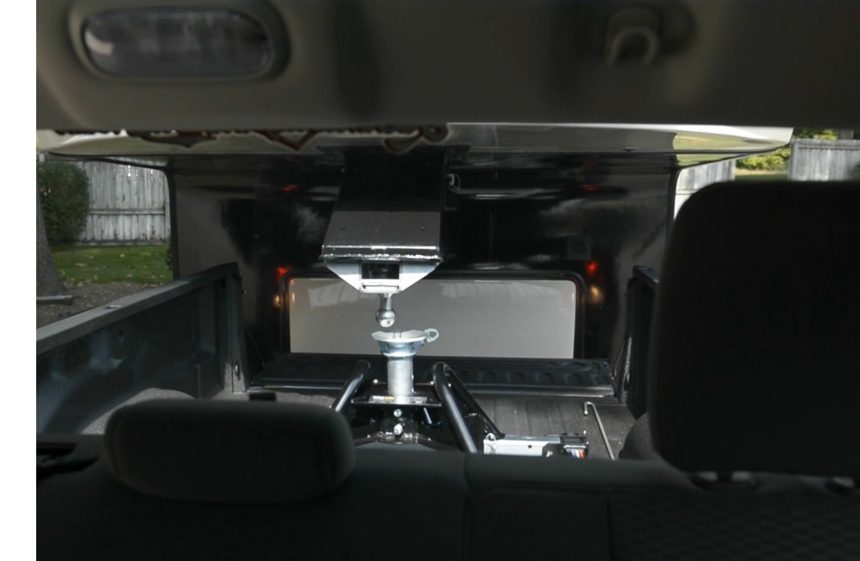 Hooking up with a fifth wheel hitch is easier than a gooseneck, but not always easy to do from the driver's seat.  With a conventional fifth wheel hookup, you have to line the king pin up so its not offset very far from the opening of the hitch plate.  You also have to set the height of the trailer "just-so" to the hitch.  It's important that the trailer plate is riding up onto the hitch plate in the right spot to prevent "high hooking."
These factors, if not performed properly, can result in a false hookup resulting in possible risk to you, your truck and/or trailer.
Completely visible to the driver from the cab, by adding a large funnel to the "gooseneck coupler" of the #2400, all you have to do is position the ball over any part of the funnel!  Coupling/uncoupling can then be performed in a straight line or at any angle to the trailer, and there is no need for exacting trailer height adjustments while hitching up.
And because the ball of the King Pin Adapter is designed with close tolerances within the coupler, trailer bumping and chucking during travel is greatly reduced.
SuperLite gives you perfect hitch-to-trailer alignment every time, no matter your backup skills!  Because SuperLite is higher than a conventional hitch, you need only to make sure that your trailer is raised high enough for the ball to clear the top of the funnel.
FUNNELED BALL RECEIVER
The funneled ball receiver is manufactured from high grade, USA steel tubing and is held securely in place by two set screws that virtually eliminates movement.  PullRite also machines its own parts to tight tolerances so there is less "play" between parts that connect with one another. 
SuperLite also has fewer connecting points, unlike common fifth wheel hitches that require a rocker arm and hitch plate that can add to the overall allowable play.  SuperLite eliminates the tolerance/play "stack-up" to give you the tightest connection and smoothest ride possible.  
Solid connections mean a smoother and quieter ride for you.  No need for "cushion" products!  Other manufacturers use pre-fab or molded parts that allow a greater amount of play between its connections.
The Funneled Ball Receiver of the SuperLite is height adjustable from 15-7/8", 17-3/8" and 18-7/8".
REMOTE LATCH SYSTEM LOCKS IT IN
SuperLite's remote latch system opens and closes the coupler latch for hitching and unhitching. 
With the Remote Handle, the Latch is easily reachable and operated by anyone.  Gooseneck owners no longer have to climb into the bed to latch the hitch.  No more need to use a step stool for trucks with high bed sides and/or dually's to reach secondary safety pins.
Simply insert the SuperLite's handle into the Remote Latch, give it a pull and twist, and the hitch ball is securely locked in place to tow.  No getting dirty and leaning over or climbing into dirty truck beds and there are no secondary locking devices to engage.
SuperLite also provides you with positive feedback when operated.  Its spring-loaded mechanisms give you a visual and tactile "confidence check" that the latch has engaged or disengaged, unlike cable-operated latches that may not allow you to feel any tactile closure when the latch is engaged properly.
CLEAN BED TECHNOLOGY
SuperLite stands out as being the lightest, high grade steel hitch on the market today!  At only 52 lbs., taking the SuperLite in and out of your truck is a one man job!
SuperLite installs on any brand industry standard rail, but with our SuperRail Mounting System, a part of PullRite's Clean Bed Technology, you can have a clean bed when you're done towing!
One man, five minutes, four easy steps and you have a clean bed when you're not towing.  It's just that simple.  No tools required (seen below with ISR Series SuperRail Mounting System).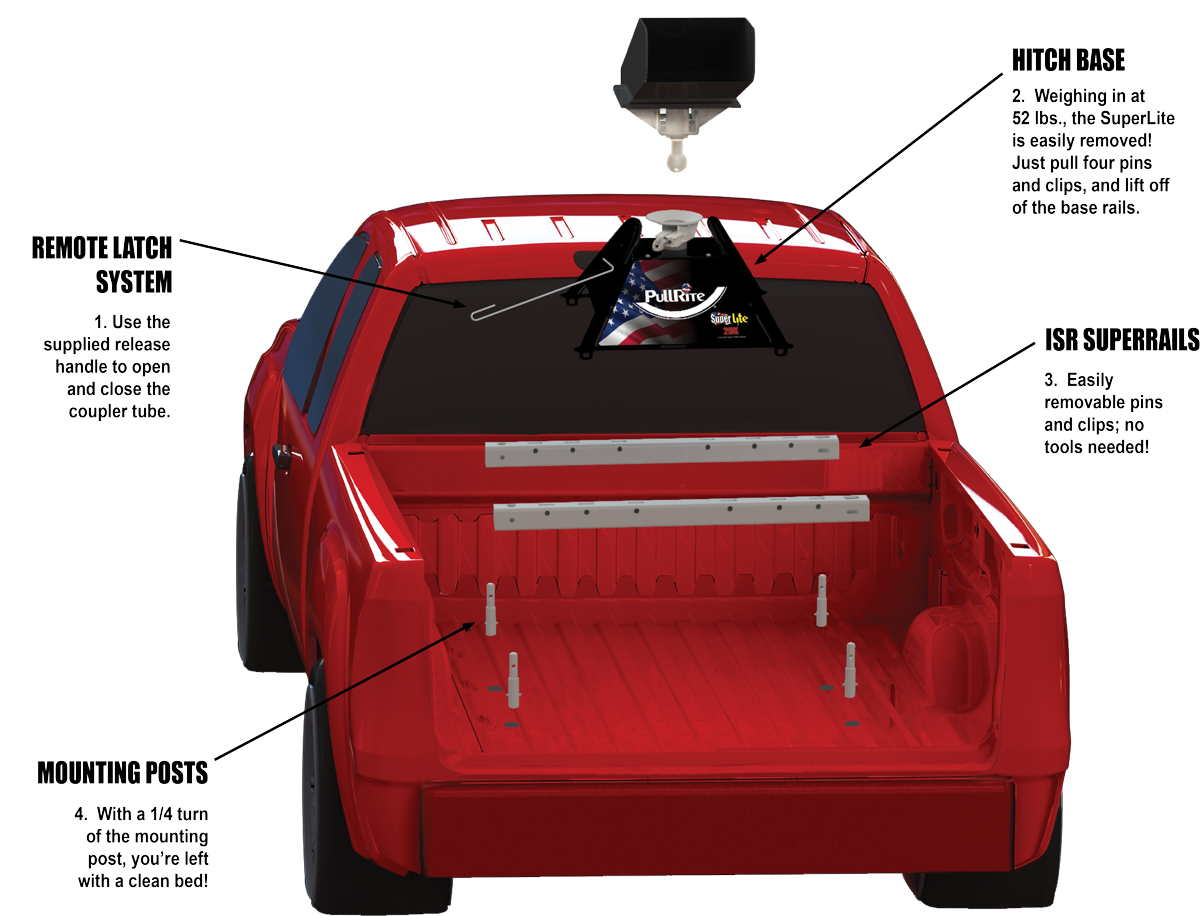 EXTENSIVE SAE J2638 TESTING
ALL PullRite hitches are tested according to the standards set forth by the Society of Automotive Engineers (SAE).   
Tests are designed to simulate real world stresses on the hitch, plus some safety factors during multiple, exaggerated stops and starts, sidewinds and weight.  In addition, we perform dynamic tests that are designed to simulate stresses under real-world road conditions. 
Currently, it is not a requirement in the RV Industry.  Why not?  When you and your family's lives and material investments are at stake, why wouldn't you want to use a tested product?  We take the necessary steps to provide you with thoroughly tested products that let you tow with peace of mind. 
Every consumer should be aware of products that claim to be tested to SAE J2638 standards.  We urge you to inquire of any manufacturer's towing products you consider purchasing whether or not they test to these standards.  Even if it is not required, it is a standard recognized in our industry.
PullRite is happy to be working with the RVIA towing committee, as well as the gooseneck and fifth wheel sub-committees, following their up-to-date guidelines for the RV market.  To learn more about SAE J2638 and why it's so very important, click here.
OE PUCK OPTIONS
They are the newest and most popular trucks for RVer's today...trucks with pucks.  If you have or looking into this type of underbed towing system, then we have you covered there as well.  #2400, as well as any other PullRite ISR Series fifth wheel hitch can be converted to this type of system.  Check out our OE Series Rail Adapters that quickly convert your rail mounted hitch into a puck mounted one.  If you're not sure how an OE Puck system and hitch works, click here to learn more!
As an alternative to conventional four point mounting systems, you can also use the center mount position with a gooseneck ball hitch.  We offer two direct mount fifth wheel hitches that attach to most any underbed 2-5/16" gooseneck ball, including our patented, Cam-action OE Series Gooseneck Ball.  Check out the #2600 SuperLite  and #3900 Single Point (1P) Attachment Super 5th's to learn more!