PullRite Mounting Brackets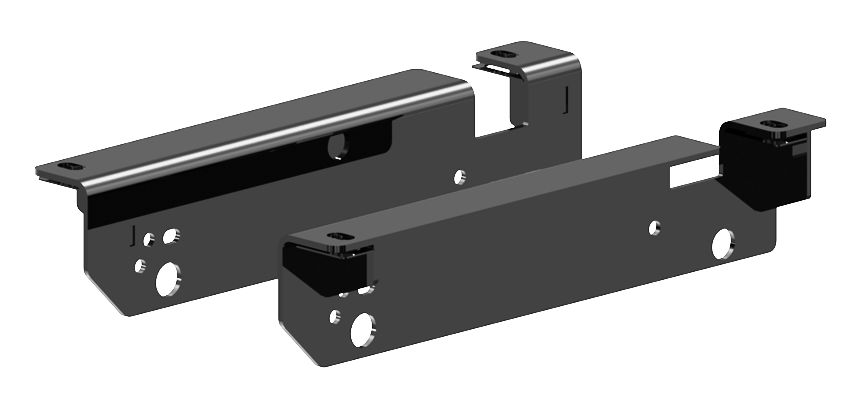 Why are PullRite's Mounting Brackets the best?  Because your safety and peace of mind are foremost in our minds.
A benchmark of PullRite has always been innovation and quality.  Our time-tested designs show our commitment to great manufacturing and provide the RV'er with the best towing products for their money. 
We go above and beyond in analyzing market trends and their viability, and perform extensive testing to bring you high quality, laser precision cut mounting brackets.  Our Mounting Brackets are made from a higher quality of steel made in the USA, just like our hitches, so you will not be disappointed with the reliability and strength of all our mounting systems.
Below is an overview of our different type of Mounting Brackets.  Be sure to talk to your dealer or call us with any questions you have when ordering your towing system!
Custom Mounting Brackets
Custom Mounting Brackets are the fastest installs in the industry because they're designed specifically for your truck's frame, and in most cases, no drilling is required.  So much innovation has been packed into these bracket designs, that most installs are a one man job, saving you time and money at the dealership! 
Custom Heavy Duty Mounting Brackets
Custom Heavy Duty Mounting Brackets offer the same advantages as our Custom Brackets, but with a heavier weight rating for towing today's luxury coaches and toy haulers.  These substantial brackets are designed for use with our #2300 SuperGlide and #2200 Super 5th ISR Series Heavy Duty hitch models for maximum performance!
SuperRail Mounting Brackets
SuperRail Mounting Brackets feature PullRite's patented Clean Bed Technology, giving full use of your truck bed back to you.  No longer are you stuck trying to work around your fifth wheel rails.  Simply unpin your hitch, unpin the rails, and give the mounting posts a twist.  Everything lifts out, giving you a clean bed—no tools required!
Universal Mounting Brackets
Universal Mounting Brackets are pretty standard in the industry, but nothing at PullRite is just "standard!"  Our Mounting Brackets are built stronger and are made to last.  These universal kits fit all with no secondary kits required.  The fixed base rails bolt to the truck bet and installs the hitch centered over the axle, giving you a better ride!  Lower cost, good value...great American quality!
If you would like to peruse a complete list of our Mounting Brackets, click here.