SO YOU'D LIKE TO TOW A FIFTH WHEEL WITH YOUR 5½′ BED TRUCK?
The only way you can is with a #3100 or #3200 model SuperGlide fifth wheel hitch!  Let us show you why...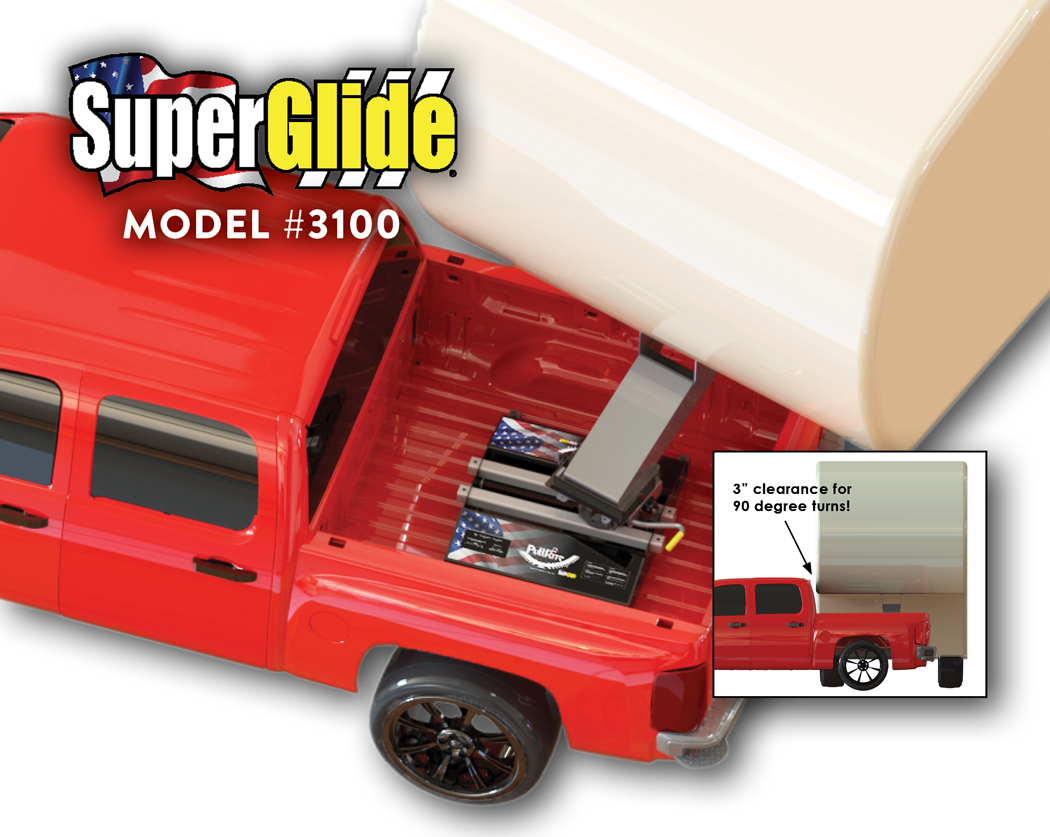 Since Ford's introduction of the SuperCrew, 1/2 ton pickup with four full doors on a standard wheel base, it's become so popular that Ram, GM and Toyota have copied it.  Today, it's the most popular 1/2 ton body style being sold.
In order to create four doors, the cab had to be lengthened, thus a shorter bed had to be created to fit on the same wheel base.  Because the wheel base remains the same, and the cab got longer, the distance from the cab to the center of axle became much shorter.  So much so that fifth wheel towing is not considered possible by the manufacturers of this truck type.  And who can blame them when fifth wheel trailers are at least 96" wide, which means that while turning, 48" of the trailer's width is swinging toward the back of the cab, which is much less than 48" away.  Check out this short animation and a customer's video that shows the problem...
So if you're going to use this style of truck, let's do the math to see how much clearance you really need to keep your trailer from hitting the cab...
In order to help you understand the challenge of this body style, let's compare the trailer to cab clearance for an 8', 6' and 5-1/2' bed for a Ford truck. 
"(cab to axle) - (half of trailer width) = cab clearance"  is the formula used in the chart below:
| | | |
| --- | --- | --- |
| BED LENGTH | CAB-TO-AXLE DISTANCE | CAB-TO-TRAILER CLEARANCE |
| 8 ft. | 56" | 56" - 48" = 8" of cab clearance |
| 6 ft. | 40" | 40" - 48" = -8" negative cab clearance |
| 5-1/2 ft. | 28-1/4" | 28.25" - 48" = -19.75 negative cab clearance |
As you can see, an 8' bed truck provides more clearance than needed.  A 6' bed truck does not allow for a full 90 degree turn and does not provide sufficient cab clearance by 8".  Not ideal, but manageable provided you watch your tighter turns, and purchase or use a slider type hitch, manual or automatic.  But your 5-1/2' bed truck does not provide sufficient cab clearance by a whopping 19-3/4"!
If you think about it, 19-3/4" is not enough clearance.  You need more clearance to account for road contours...let's say 3".  So, the real distance you need to travel is 19-3/4" + 3", or 22-3/4".  There are no manual sliding hitches made that travel more than 12".  There are no other SuperGlide hitches that travel more than 18".  The #3100 and #3200 SuperGlides are the ONLY hitch of any type or brand that travels 22-3/4"...exactly what you need for this type of truck!  Take a look at the next animation to see the model 3100 in action.
Now, not every trailer is going to be a candidate for these types of truck models, even when using the #3100 or #3200 SuperGlide.  For example, your trailer must not be more than 96" wide, and the distance your king pin box extends forward of your trailer nose cap, may be critical depending on the truck model you purchase.
Many trailers today have contoured nose caps like those shown below.  The trailer nose cap may overhang the king pin in the middle like the Cougar trailer below on the left, but at the corners, they're behind the king pin.  The corners of a trailer, like the one in Figure 2, is going to contact the cab much quicker than one without their corners removed and contoured (Figure 1), however, the nose cap of your trailer is only of concern below the cab line.  Anything above the cab line is of no consequence (see figure 3 below).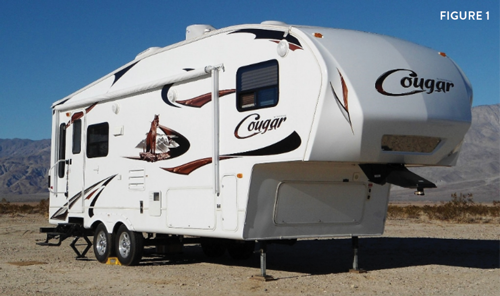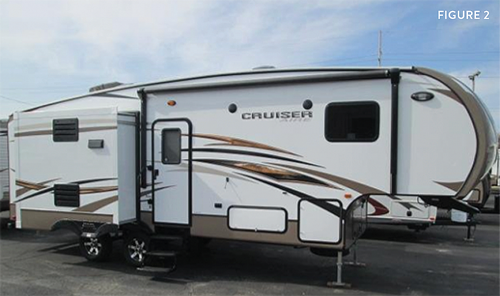 The greater the distance between the cab's contact point and the king pin, the better that trailer is suited for this truck application.  The two drawings below show how to find the contact point and how to measure the distance between it and the king pin: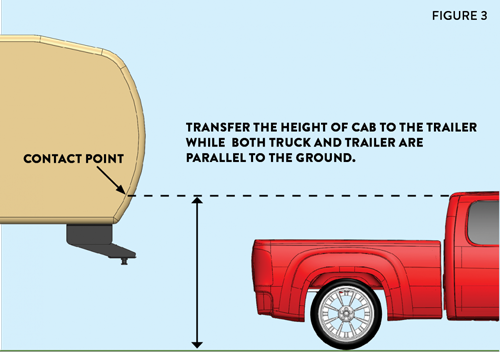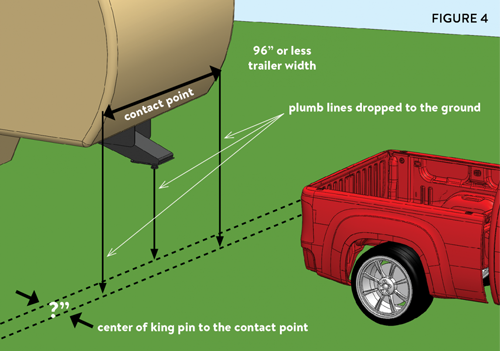 Find your truck manufacturer (current body style) on the chart below to find the required distance ahead of the contact point:
VEHICLE MAKE

CAB TO AXLE DISTANCE

DIST. THE KING PIN IS AHEAD
OF "CONTACT POINT"

Ford

28-1/4"

10"

Ram

28-3/4"

8"

GM

32-3/4"

0"

Toyota

32-3/4"

0"
So you can see, a Ford and Ram require a trailer that has more fore and aft distance between the contact point of the trailer and the king pin, whereas GM and Toyota require none.
To see our great lineup of super short bed SuperGlides, click here!  Still have questions?  Give one of our trusted Customer Service Team members a call at (800) 443-2307 for fit and compatibility information!