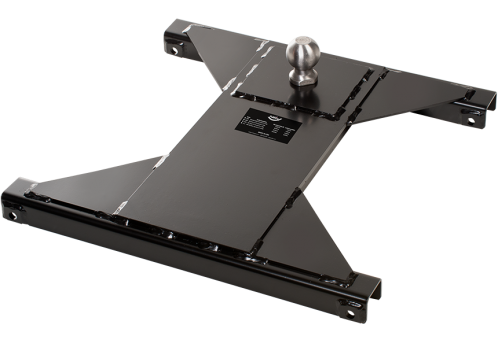 #3335 Traditional Series SuperGlide Gooseneck Adapter
*** Special Order Item ***
Want to tow a gooseneck trailer with your existing Traditional Series SuperRails?  This great add-on will get you on the road with confidence and strength!  Simply unpin and remove your SuperGlide hitch and pin in this gooseneck adapter!
Description
Compatible with all #4100 and #4400 mounting systems.
Notes/Limitations
A towing system includes each vehicle and component involved in towing. Each item in your towing system has a capacity or weight rating.  You trailer has a Gross Vehicle Weight Rating, or GVWR.  Your truck has a tow capacity, payload capacity, and possibly more. In addition, your fifth wheel hitch has a weight rating.  This weight rating must be at, or above, the GVWR of your trailer for you to tow safely.  In addition, if your truck can tow larger loads (has a larger capacity) than the rating of your hitch, your system is only safe to tow loads at the lower rating, that of the hitch.
Your mounting kit also has a weight rating, just like your fifth wheel hitch. Many times, these rating are designed to match. But, this is not always the case. Your mounting kit may be higher rated then your fifth wheel hitch, but it also could be lower depending on the components involved.  The lowest rating of any one component in the system becomes the rating of the entire system. If your mounting kit is rated to 18,000 lbs., and your hitch is rated at 24,000 lbs., the weight rating of the entire system will not be above 18,000 lbs.  Other components in the system could lower the actual system rating further.
It is the end users responsibility to ensure a safe towing experience. To this end, it is your responsibility to ensure that the truck, trailer, hitching components, and all other items involved are rated or have a capacity sufficient for the loads involved.
Capacity (max. trailer weight)
18000.00lbs.
Overall Dimensions (inches)
27"W x 27"H x 6"L; box
Finish
E-coated, black powder overlay
Shipping Specs
Box, Corrugated