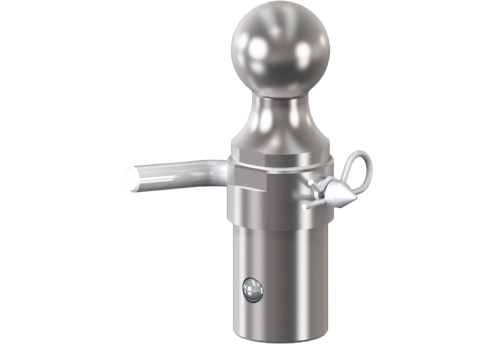 #4436 OE Series Gooseneck Ball Adapter
PullRite's OE Gooseneck ball fits truck's factory-equipped Tow Prep Package or any aftermarket underbed gooseneck system w/ a 2-5/16" ball.
Patented cam-action, TwistLock technology

No plastic parts to break

No openings in the top to allow dirt and moisture in to corrode, unlike other brands!

Hard nickel finish resistant to scratches

Machined flats to never get stuck in bed
All OE Series Gooseneck Balls have an additional safety feature available to you.  We have machined the hitch pin to accommodate our special #2621 OE Gooseneck Ball Lock Kit to deter theft.
To learn more about this great OE Gooseneck Ball hitch, read our "How it Works" page!
Notes/Limitations
A towing system includes each vehicle and component involved in towing. Each item in your towing system has a capacity or weight rating.  You trailer has a Gross Vehicle Weight Rating, or GVWR.  Your truck has a tow capacity, payload capacity, and possibly more. In addition, your fifth wheel hitch has a weight rating.  This weight rating must be at, or above, the GVWR of your trailer for you to tow safely.  In addition, if your truck can tow larger loads (has a larger capacity) than the rating of your hitch, your system is only safe to tow loads at the lower rating, that of the hitch.
Your mounting kit also has a weight rating, just like your fifth wheel hitch. Many times, these rating are designed to match. But, this is not always the case. Your mounting kit may be higher rated then your fifth wheel hitch, but it also could be lower depending on the components involved.  The lowest rating of any one component in the system becomes the rating of the entire system. If your mounting kit is rated to 18,000 lbs., and your hitch is rated at 24,000 lbs., the weight rating of the entire system will not be above 18,000 lbs.  Other components in the system could lower the actual system rating further.
It is the end users responsibility to ensure a safe towing experience. To this end, it is your responsibility to ensure that the truck, trailer, hitching components, and all other items involved are rated or have a capacity sufficient for the loads involved.
Capacity (max. trailer weight)
30000.00lbs.
Overall Dimensions (inches)
15.5"W x 16"H x 4"L; box
Finish
Hard Nickel Finish
Shipping Specs
Box, Corrugated
Videos
OE Gooseneck Ball Installation