SuperGlide ... How It Works!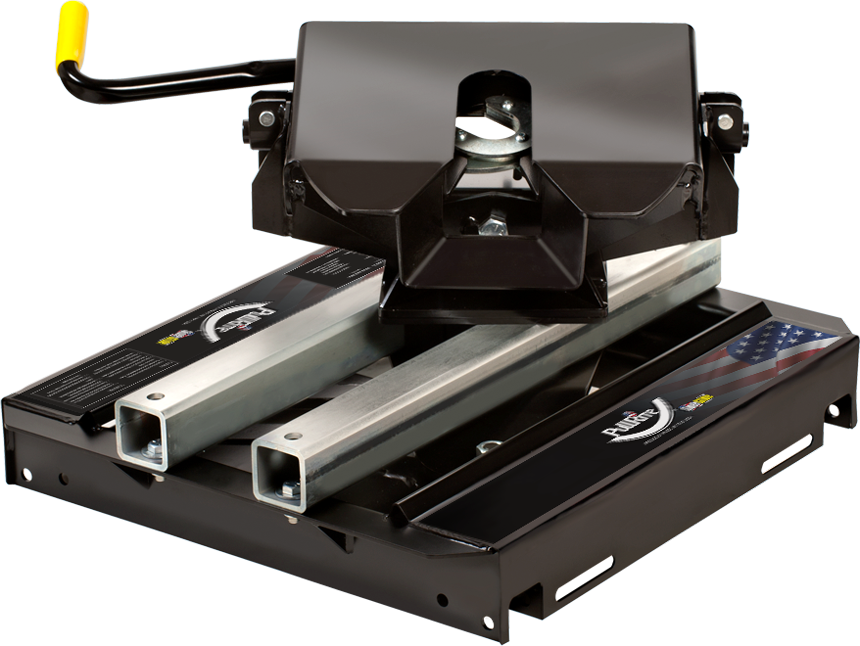 We're so glad you've arrived here so we can show you how PullRite's SuperGlide fifth wheel hitch can truly change your first, or ongoing towing experience for the better!
Our drive and passion for the RV'er is to provide an enjoyable towing experience...and that starts with the equipment you choose to buy.
THE PROBLEM TOWING WITH SHORT BED TRUCKS
Though very popular still today, if you tow a fifth wheel trailer with a short bed truck, you're going to have some clearance issues. Even the simplest of turns can become a problem, especially in tight spaces like gas stations and campgrounds.
Take a look at the video above that we made a few years ago to help explain some of the problems folks encounter when towing with short bed trucks. The hitches you see here are from our Traditional Series of SuperGlide hitches. The concepts are the same for both these, and our newest line of products...the ISR Series, but more on that later. Then take a look at the second one; it's a short video a customer sent us that tells why they ended up switching to a SuperGlide!
MARKET "SOLUTIONS"
So from the video above, you can see that there are some issues that need to be addressed. Now, we've been making high quality, American made hitches for over 40 years now. We watch the trends in the towing industry, and being RVer's ourselves, we weren't satisfied with the available equipment out there for short bed trucks. There were a few options, but none were easy and some didn't solve clearance issues at all when making full turns. So we came up with a solution...
MANUAL VS. SLIDING HITCH
Manual sliders just require too much effort and take way too many steps to make a turn. Who wants to get in and out of their truck several times just to make a tight turn, especially when you're blocking other people or simply don't want to be hopping in and out of your truck several times. And God forbid you should forget to do the steps! Another so-called "solution" the industry came up with is an extended king pin box. Let us show you what you might run into there...
THE ONLY REAL SOLUTION
SuperGlide. The proof, as they say, is in the pudding.
Beyond the practical reasons we showed you above, and the solutions to common problems that SuperGlide answers, let's go a little further and explain what sets us apart from all the others...
QUICK CONNECT CAPTURE PLATE
At the very heart of SuperGlide's functionality is the need for a Capture Plate. This plate is mounted to your trailer's king pin prior to towing. It immobilizes, or "captures", the king pin and does not allow it to rotate independently from the hitch plate. It's locked in...so when you make that turn, the hitch head follows a path to move it back from center of axle to the rear of the truck, giving you more clearance to make those tight turns without getting out of your truck! Watch how that happens in this short animation; again, we have grown since then and we have many more models available to you, including our Multi-fit Capture Plates, but the concepts are still the same.
A UNIQUE HITCH PLATE
Let's start with the hitch plate itself. No one makes it like we do...and we can say with all honesty, it's superior in many ways. And it's not limited to only our SuperGlide hitches, our hitch plate is on every model hitch we make except one...the brand new SuperLite (more info click here). We have detailed all the benefits of our hitch plate on another page and we encourage you to follow this link and learn more, but for now, watch this animation on how it automatically locks your trailer in without the use of safety pins and such.
CENTER OF AXLE AND TRAILER SWAY
What does it matter? It's critical if you want a sway-free, comfortable towing experience. Most RVer's buy fifth wheel trailers for their stability and to eliminate sway, but without the proper hitch, you're not going to achieve that. By placing the weight of your trailer over your truck's axle, you greatly reduce the stress on your vehicle and amount of sway you will experience by high winds and passing vehicles. Look how sway can affect your truck and trailer, and how SuperGlide eliminates that problem...
We could go on and on about our product because we can proudly stand behind it and confidently tell you, you're going to love it! It makes towing enjoyable again, and if you're new to trailering, well, you're going to save yourself some unnecessary stress and hassle of using inferior products on the market. Trailer Life magazine's own Bob Livingston did a review on SuperGlide when it came out a while ago. We invite you to listen to what he has to say about it.
Since coming out with our Traditional Series of SuperGlide, we have greatly expanded our offerings to include a diverse line of hitches that fit your industry standard rail type system. So if you're an old pro at this, and want to upgrade to a Super 5th, SuperGlide, or even our new SuperLite, our ISR Series line of hitches let you do just that. Keep your old rails and upgrade to our hitch, or you can switch over to our "better than theirs" ISR rail system. They're built out of a higher quality, and thicker metal than what you would get with a cheap import.
 Or better yet, how about having a clean truck bed again? Those of us who use our trucks year round for farming, or hauling need the space and not the clutter! That's where PullRite's CLEAN BED TECHNOLOGY comes on the scene! How about a rail system that is totally removable with just a turn of a post and pull of a pin and clip? Watch this new video and see how easily it works! Don't accept cheap imitations of our sliding technology. We've been at this for many years now, and the SuperGlide hitch has proven to be the clear choice time and again, both for new and seasoned RV'ers.
 Click HERE to view the entire product line!