#2200 ISR Series 24K Super 5th Fifth Wheel Hitch
The #2200 is the work horse of our ISR Series Super 5th line of fifth wheel hitches.  A larger capacity version of the #2100, this Heavy Duty model out-performs any fixed position, rail mounted fifth wheel hitch for long bed trucks on the market today.  It boasts a thicker, high quality American steel and heavier rated hardware than the #2100 to achieve its higher weight rating.
The #2200 is ideal for long bed trucks, but usable with short bed trucks with the right truck/trailer combination for those who don't mind making a larger turning radius to avoid cab contact.
PullRite's innovative designs and quality American manufacturing, make the #2200 a hitch you can feel confident in trailering for years to come! All our ISR Series hitches pin to the "other guy's" existing base rails in your truck without the need for tools and eliminates the need to reinstall and drill additional base rail holes!
The #2200 can be used with an existing industry standard rail system, but remember your tow package is only as strong as its "weakest link," so if you put a 24K hitch in your truck on a 16K rail system, you can only safely tow a 16K trailer.
If you're starting fresh and don't have a towing system yet, we would encourage you to consider your options.  We have several mounting systems to choose from, so start here to see what's available to you.  And be sure to check out our mounting systems that feature Clean Bed Technology.
Do you have an OE Puck mounting system?  Did you know you can quickly convert this or any ISR Series hitch to a puck mounted one?  Find out how!
Have you considered a SuperGlide hitch for short bed trucks?  Click here to learn more.
To see why our hitch plate is different than all the rest, click here.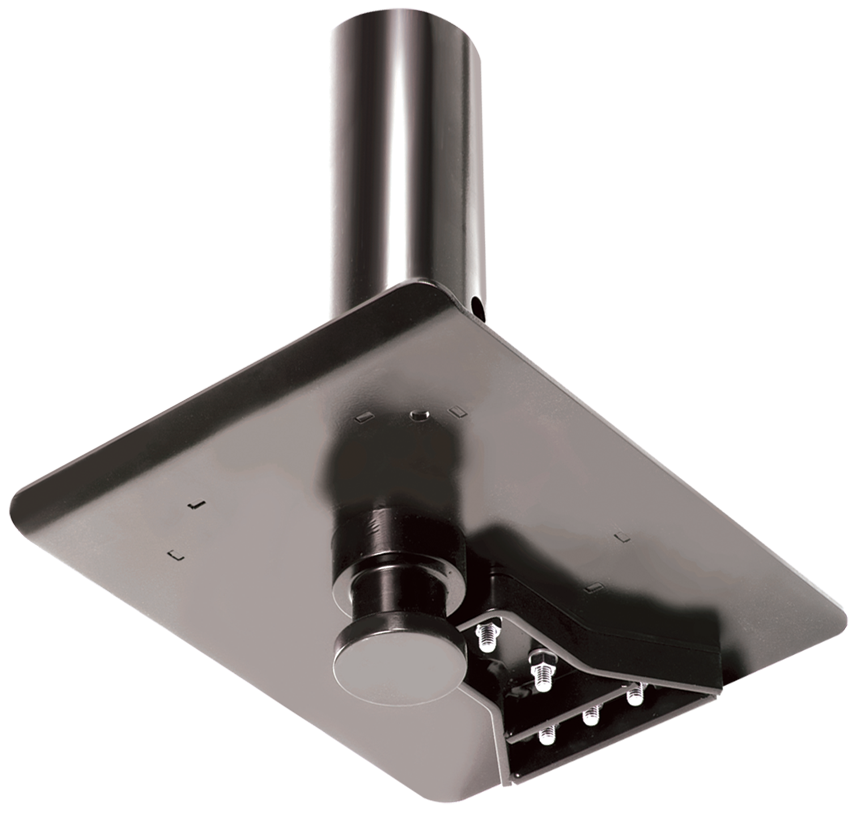 CONVERT YOUR GOOSENECK TO A FIFTH WHEEL!
Do you own a horse, cargo, stock or gooseneck trailer and a fifth wheel trailer?  Tired of moving your hitch from a gooseneck to a fifth wheel when you want to go RVing? 
We have a solution for you!  The #4424 Horse Trailer Adapter lets you swap out your trailer's coupler with the #4424 adapter and quickly convert your gooseneck to a fifth wheel. 
Works with all ISR Series Super 5th and #3900 Single Point Super 5th.  Features a removable wedge for use with all SuperGlide automatically sliding hitches too!
Description
24,000 lb. max gross trailer weight towing capacity

6,000 lb. max trailer pin weight capacity

Vertical height adjustment from 16" to 19"

Dual articulating head moves side-to-side and front-to-back during towing for a smoother ride

Hitch head easily removable with pins and clips...no tools needed

Locking jaw closes automatically around king pin

Latch handle locks automatically when locking jaws are engaged

No secondary locking devices to engage means no reaching over high-sided truck beds to get dirty

Extended handle keeps you out of the bed

Precision, laser cut jaw components cradle the trailer's king pin 140º for a secure, tight fit

Tight fitting parts give you the best ride possible

Hitch comes fully assembled

#4424 Gooseneck/Horse Trailer Adapter

available

SAE J2638

tested

Made in the USA
NOTE:  Compatible with rotational king pin boxes, however, watch "The Downside to Rotational King Pin Boxes" under the "videos" tab to the right first.
Notes/Limitations:
A towing system includes each vehicle and component involved in towing. Each item in your towing system has a capacity or weight rating.  You trailer has a Gross Vehicle Weight Rating, or GVWR.  Your truck has a tow capacity, payload capacity, and possibly more. In addition, your fifth wheel hitch has a weight rating.  This weight rating must be at, or above, the GVWR of your trailer for you to tow safely.  In addition, if your truck can tow larger loads (has a larger capacity) than the rating of your hitch, your system is only safe to tow loads at the lower rating, that of the hitch.
Your mounting kit also has a weight rating, just like your fifth wheel hitch. Many times, these rating are designed to match. But, this is not always the case. Your mounting kit may be higher rated then your fifth wheel hitch, but it also could be lower depending on the components involved.  The lowest rating of any one component in the system becomes the rating of the entire system. If your mounting kit is rated to 18,000 lbs., and your hitch is rated at 24,000 lbs., the weight rating of the entire system will not be above 18,000 lbs.  Other components in the system could lower the actual system rating further.
It is the end users responsibility to ensure a safe towing experience. To this end, it is your responsibility to ensure that the truck, trailer, hitching components, and all other items involved are rated or have a capacity sufficient for the loads involved.
Capacity (max. trailer weight)
24,000 lbs.
Pin Weight Capacity (max. vertical weight)
6,000 lbs.
Hitch Plate Weight
40 lbs.
Overall Dimensions (inches)
28.25"W x 24.25"L x 17"H
Finish
Black, powder coat
Shipping Specs
Box, Corrugated
Videos
PullRite's Exclusive, Fully Automatically Locking Hitch Plate
Downside of Hooking Up with Conventional Goosenecks