#1500 OE Puck Series 18K Super 5th, Fifth Wheel Hitch for 2016-2019 Long Bed GM Trucks
The #1500 OE Puck Series Super 5th is designed specifically for GM long bed trucks with pucks, but usable with short bed trucks with the right truck/trailer combination for those who don't mind making a larger turning radius to avoid cab contact.  But if you want a true solution to short bed cab clearance limitations, check out SuperGlide for a fully automatic, sliding hitch!! 
This direct attachment hitch mounts directly to your truck's OE mounting points...NO ADAPTER OR RAILS NEEDED!  
The mounting post assemblies are completely removable for easier removal and installation of the hitch.  Simply unpin handles, rotate 1/4 turn outward and lift the hitch out of the bed. NO TOOLS NEEDED!  The #1500 is made from high quality American steel and premium hardware, like the use of castle nuts that allow for finer adjustments of the OE puck handles for ease of installation and fit!  See how OE Puck hitches work here.
The hitch plate is the first connection to your trailer.  Ours have a fully automatic locking jaw, is the only self-locking handle on the market and has no secondary locking devices to engage.  Its dual articulating hitch head moves side-to-side and front-to-back, giving you a smoother ride as you travel over bumpy roads.  Even more important, PullRite's hitch plate allows you to couple/uncouple your trailer on uneven ground, whereas most other brand of hitches require you to jack up/shim your truck and trailer to be level with one another to prevent a false hookup or "high hooking."  And removing PullRite's automatically-locking hitch plate is done by pulling two pins and clips, unlike other hitches on the market that require tools for removal.  There's more to say about this great hitch plate, so check out why our hitch plate is a "head above the rest" by clicking here.
Available in a heavier 25K weight rating is the #1600 OE Series Super 5th.
Not sure what mounting system you already have or need?  Click here for an overview of all our mounting system options! 
Like the idea of a clean bed?  Be sure to check out our mounting systems that feature Clean Bed Technology!
All PullRite products are SAE J2638 tested.  To learn more and why we feel it's so important to your safety, click here.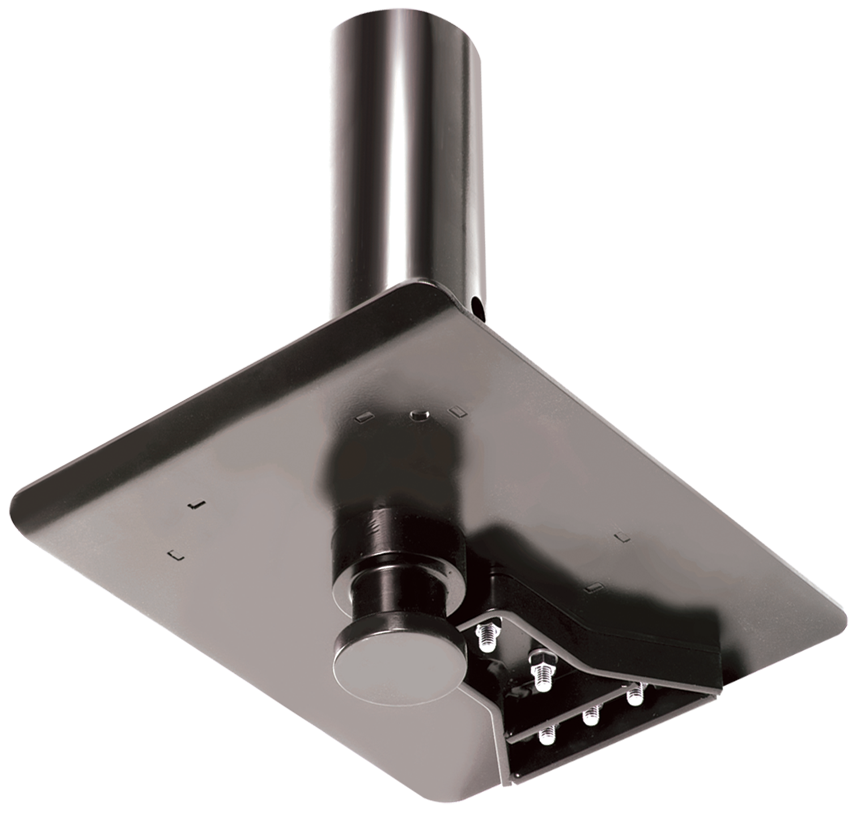 CONVERT YOUR GOOSENECK TO A FIFTH WHEEL!
Do you own a horse, cargo, stock or gooseneck trailer and a fifth wheel trailer?  Tired of moving your hitch from a gooseneck to a fifth wheel when you want to go RVing? 
We have a solution for you!  The #4424 Horse Trailer Adapter lets you swap out your trailer's coupler with the #4424 adapter and quickly convert your gooseneck to a fifth wheel. 
Works with all ISR Series Super 5th and #3900 Single Point Super 5th.  Features a removable wedge for use with all SuperGlide automatically sliding hitches too!
Description
18,000 lbs. max gross trailer weight towing capacity

4,500 lbs. max trailer pin weight capacity

Vertical height adjustment from 15" to 18"

Direct mount fifth wheel hitch for trucks with OE puck mounting points

Dual articulating head moves four directions for easier hookup on uneven ground and a smoother ride

Hitch head easily removable with pins and clips...no tools needed

Locking jaw closes automatically around king pin

Latch handle locks automatically when jaws are engaged

No secondary locking devices to engage means no reaching over high-sided truck beds to get dirty

Extended handle keeps you out of the bed

Precision, laser cut jaw components cradle the trailer's king pin 140º for a secure, tight fit

Tight fitting parts give you the best ride possible

Hitch comes fully assembled

#4424 Gooseneck/Horse Trailer Adapter

available

SAE J2638

tested

Made in the USA
Notes/Limitations
A towing system includes each vehicle and component involved in towing. Each item in your towing system has a capacity or weight rating.  You trailer has a Gross Vehicle Weight Rating, or GVWR.  Your truck has a tow capacity, payload capacity, and possibly more. In addition, your fifth wheel hitch has a weight rating.  This weight rating must be at, or above, the GVWR of your trailer for you to tow safely.  In addition, if your truck can tow larger loads (has a larger capacity) than the rating of your hitch, your system is only safe to tow loads at the lower rating, that of the hitch.
Your mounting kit also has a weight rating, just like your fifth wheel hitch. Many times, these rating are designed to match. But, this is not always the case. Your mounting kit may be higher rated then your fifth wheel hitch, but it also could be lower depending on the components involved.  The lowest rating of any one component in the system becomes the rating of the entire system. If your mounting kit is rated to 18,000 lbs., and your hitch is rated at 24,000 lbs., the weight rating of the entire system will not be above 18,000 lbs.  Other components in the system could lower the actual system rating further.
It is the end users responsibility to ensure a safe towing experience. To this end, it is your responsibility to ensure that the truck, trailer, hitching components, and all other items involved are rated or have a capacity sufficient for the loads involved.
Capacity (max. trailer weight)
18,000 lbs.
Pin Weight Capacity (max. vertical weight)
4,500 lbs.
Hitch Plate Weight
40 lbs.
Finish
Black, powder coat
Shipping Specs
Box, Corrugated
Videos
Clean Bed Technology! Get a clean bed when you're not towing!
PullRite's Exclusive, Fully Automatically Locking Hitch Plate. Watch how it works to keep you out of the truck bed!
OE Puck Rail Adapters! Convert your industry standard rail hitch to a puck mounted fifth wheel hitch!

Kit includes King Pin Assembly, Capture Wedge Assembly, cross pin and other required hardware. 30,000 lbs. max gross trailer weight towing capacity 7

* Kit includes Gooseneck Ball, Chain Plate, hitch pin and clip.